Alpha maker has now been tested in the German version of photoshop and works! As well as in PSE 7 & PSE 8.
Here is an easy step by step to show how easy it is to use!
**IMPORTANT**
Before using you must create a folder in your C drive named Alpha_Save
Step 1:
Make sure you have your guides showing.
In Photoshop it is in VIEW->SHOW->GUIDES
In PSE it is VIEW->GUIDE PRESETS

Step 2:


Step 3:

Step 4:
Just make sure all the letters are inside the guides before running the action.
Just rasterize the text, then using your marquee tool, select the letter you need to move and hold CTRL while you drag it into place. Some fonts may need to be made smaller than 200 pt to fit in the grid.
And also make sure if you are using a style that you make a new layer and merge it with the text layer. It will not work if your layer has active styles.
For PSE users this is how to run the action, you may notice that the layers are different than in photoshop. With the text being on the bottom instead of the top. It may help.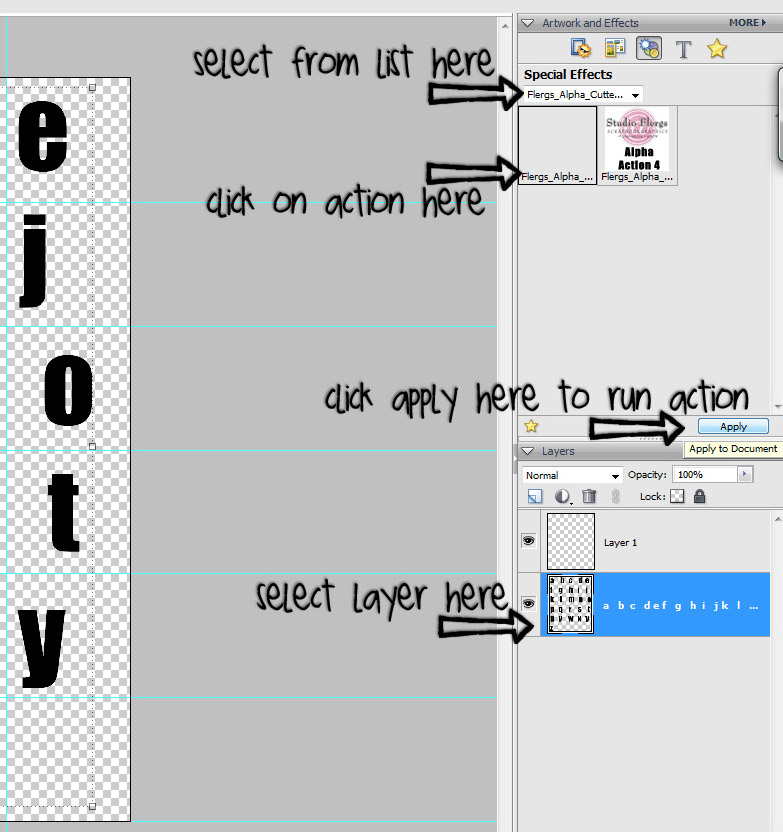 Step 5:

It saves all letters as alpha_Lower_e, Alpha_Upper_E and so on.
Just download renamer basic and add your name and alpha name to the files! It's free and simple to use. It's what I use to rename EVERYTHING!
It includes All uppercase, lowercase & numbers. Upper & lowercase European letters as many as I could find to include. As well as most common punctuation symbols. It results in over 160 individual letters.
TIP:
Normally I run th action on the font 'as is'. The end result is plain black letters. Then I open them up in photoshop and pretty them up with either actions or styles etc…and I recored it as I do it. Then I run a batch action on ALL the letters and it does each one for me. Only works if you have photoshop and you also know how to record actions.
2 Responses to "Alpha Maker Tutorial"