…is kaylee's new saying.
I recently discovered I cannot eat Feta cheese. It bloats me and gives me cramps & pain for 3-4 days after. And now Kaylee holds her belly and says "oooo I gots the cheeses".
So my BIL wedding was on the weekend and I was already majorly stressed out at the thought of going. I lost a heap of weight 4 years ago and looked great…now it has all come back and I feel gross. So here I am trying on clothes and having a major 'fat attack' at my regular body. I finally find something I feel ok in and leave it at that. So Tuesday I eat Feta cheese. And by Friday my belly was 2 times the regular size! PLUS the pain is so bad it is like I have been kicked by a horse.
This is my regular fat belly: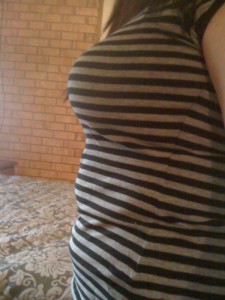 And this is the cheese belly:
My normal isn't pretty but it's a helluva lot better than having the cheeses!